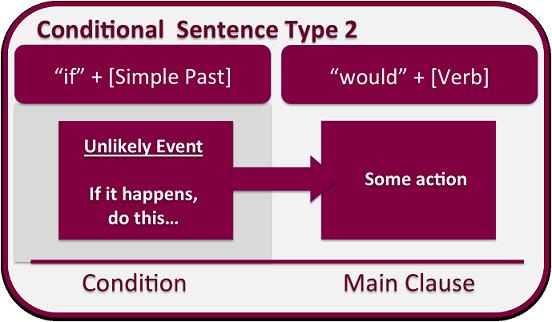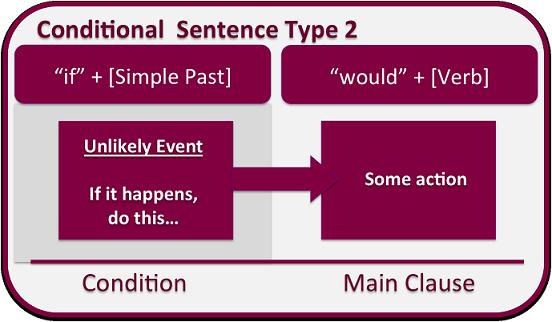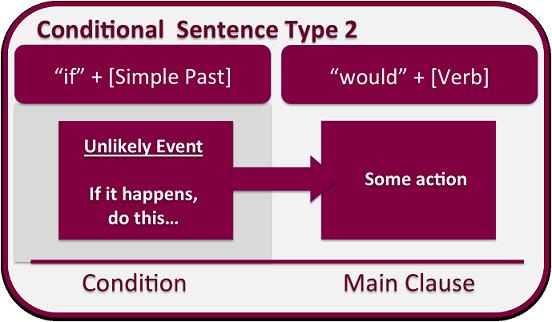 Hemos visto que el First Conditional lo usamos para relacionar dos posibles eventos. En cambio usamos el Second conditional (también llamado hypothetical conditional)para expresar una conección distante e improbable entre dos eventos imaginarios. El primer evento comienza con un 'if' más una oración en pasado, y el segundo va con el verbo modal 'would' más infinitivo:

IF + past tense, + conditional sentence (would +infinitive)
Ejemplos:
If I got the job, I would move to London. (Si tuviera el trabajo, me movería a Londres)
If I were(1) you, I wouldn't do that. (Si fuera tú, no haría eso)
If you lived closer, we'd visit you more often (Si vivieras más cerca, te visitariamos más a menudo)
If you came in the summer, you could (2) stay with us (Si vinieras este verano, podrías estar con nosotros)
Notas:
En la oración con if cuando utilizamos con el verbo 'to be' este se conjuga normalmente con la forma were incluso cuando va con I, he, she o it.
Aunque el verbo modal más común en estas situaciones es 'would' también podemos utilizar otros modales como could y might.