Condicionales en Inglés : First Conditional
|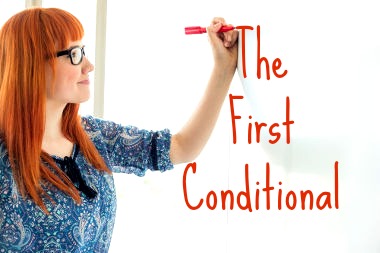 Una oración condicional (conditional sentence), muestra un evento como condición de otro evento: Si hoy llueve, no iremos a la plata- si yo fuera tú, no haría eso etc. En principio hay cuatro tipo de oraciones condicionales, en esta ocasión comenzaré con la más común y sencilla de todas: 'predictive conditional' o también llamado popularmente el 'First conditional'. Su estructura es muy similar a la del castellano: una frase en presente simple que comienza con 'If' ('si' en castellano) seguida de una frase en futuro con el verbo auxiliar 'will'(1). Fijémonos en la primera estrofa de esta conocida canción de los Bee Gees:
"If you leave me now
You'll take away the biggest part of me
Ooo oh, no, baby please don't go
And if you leave me now
You'll take away the very heart of me
Ooo oh, no, baby please don't go.
Ooo, oh, girl, I just want you to stay…"
Como pueden observar, la primera oración en naranjo 'si tú me dejas ahora' comienza con 'if', más una oración en presente simple. La oración en rojo es una oración en futuro simple que indica lo que pasará si la primera acción se lleva a cabo. Esta es una sencilla relación causa y efecto: si esto ocurre lo otro también ocurrirá. O como dice la canción, si ella lo deja ahora, ella se llevará consigo la mayor parte de él – es posible que ella lo deje, pero si ella no se va lo otro no ocurrirá por eso "baby please don't go" le continúa pidiendo el cantante. La otra parte en azul es exactamente igual: If you leave me now (if + present tense) you'll take away the very heart of me' (future tense). Este es un condicional muy importante que deberían dominar incluso los principiantes, ya que es utilizado muy a menudo en el día a día. Recordad que la estructura básica de este condicional es:
IF + present simple, + future simple
Si no estáis seguros que aún lo domináis os recomiendo que visitéis este sitio para practicar.
(1)'Will' es el verbo modal que más se utiliza en futuro pero no hay que olvidar que también se puede utilizar 'going to' o incluso 'can' en algunas ocasiones.