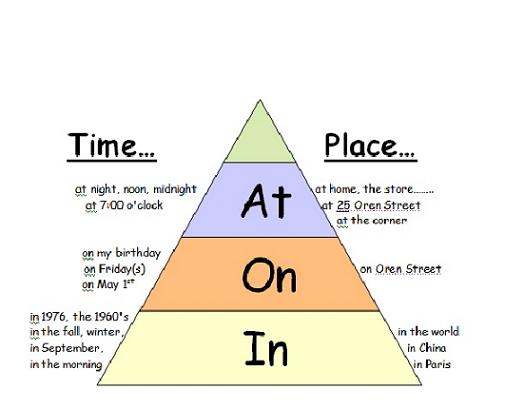 ON, IN y AT son preposiciones y en esta clase estudiaremos el significa de cada una de ellas.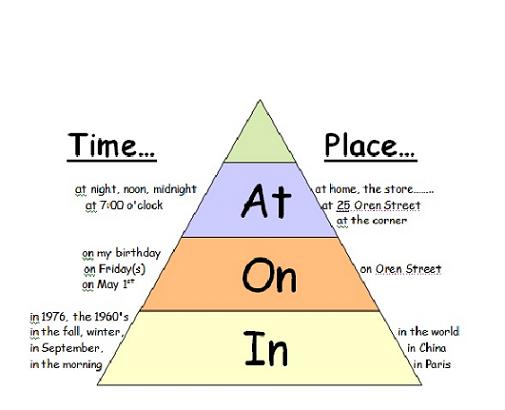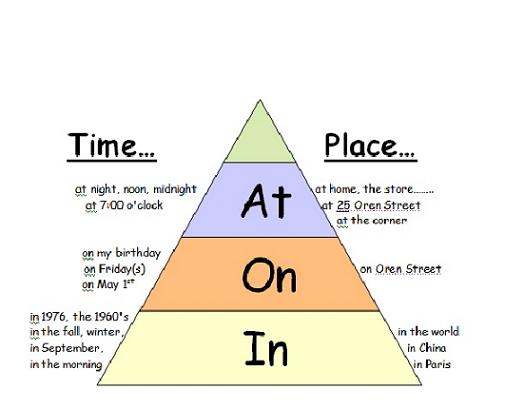 ¿Qué es una preposición?
Una preposición enlaza sustantivos pronombres y frases a otras palabras en una oración. La palabra que la preposición introduce es llamada el objeto de la preposición. Una preposición usualmente indica la relación de tiempo, espacio o lógica de su objeto al resto de la oración.
Los usos de las preposiciones
Uso de la preposición IN : generalmente significa en español y su uso es diferente al que le damos en español
Hablar de espacios
Ciudades o países
Para referirse a objetos que están dentro de algo
Para referirse lugar con agua
Para referirse a los meses solos.
Ejemplos :
The dog is in the house.
El perro está en la casa
Pedro is in Paris.
Pedro esta en Paris.
Uso de la preposición ON : generalmente significa en con el sentido que se encuentra sobre alguna superficie. Usos de preposición ON.
Superficies
Días de la semana
En el sentido Sobre(about) "acerca de"
Sobre(over) "encima de algo"
Meses con día
Ejemplos:
on a chair – en una silla
on a plane – en un avión
on a bus – en el autobús
on a train – en el tren
on the floor – en el suelo
on the ground – en el suelo
on the right – a la derecha
on the left – a la izquierda
on the first floor – en la primera planta
Uso de la preposición AT :
Lugares concretos con en sentido "en el" o "en la"
Para decir la hora
Para decir mediciones
Uso de arroba @
Antes de nombrar un sitio web (EN www.ejemplo.com)
Ejemplos :
at school – en la escuela
at work – en el trabajo
at the front – adelante
at the back – detras
at church – en la iglesia
at the end of the street – al final de la calle
at a bus stop – en la parada de autobus
at the traffic lights – en el semaforo