Los prhasal verbs, también conocidos como falsos amigos ya que parece que tienen un signifucado y luego tienen otro. De ahí la dificultad de muchos de los que estudiais inglés para comprender una conversación en un país anglosajón. Pues lamentablemente para todos vosotros he de deciros que los prhasal ver se utilizan y mucho. Asi que os aconsejo que estudiéis bien los que os pongo a continuación.
Turn up / Subir el volumen Turn up the music

Turn on / Encender Turn on the TV, I want to watch my favourite programme

Ask (someone) out / Invitar a salir a alguien David asked Linds out to dance

Break down /romper,cortar Anne and David have broken up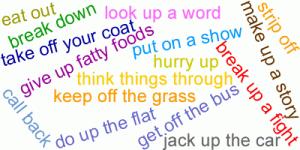 Make up

/

Maquillarse

,Invertar,Preparar He was tired last night, but he

made up

the dinner for him.

Look after/ Cuidar de alguien  I'll look after you whenever you need me
Si os ha gustado nuestra lista de phrasal verbs y quereis disfrutar de nuestras clases de inglés, adaptadas a vuestras necesidades no dudéis en poneros en contacto con nosotros a través de nuestra web.