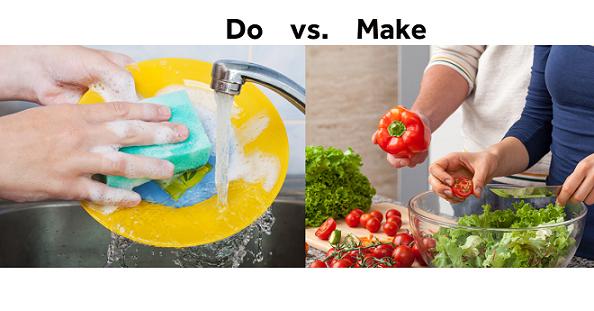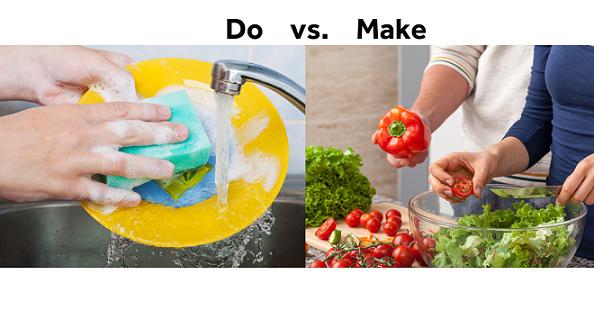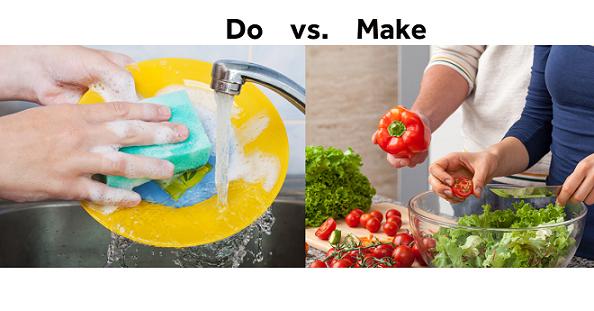 Hoy aprenderemos cuál es las diferencias entre las palabras make y do. Hay muchas personas que se confunden entre los verbos make y do, y es un error muy común en ingles. Hoy trataremos de explicar y dar ejemplos para diferenciar estos verbos.
Do (hacer)
La palabra do es un verbo que significa hacer. Usaremos esta palabra cuando nos referimos o estamos hablando de un trabajo, de una tarea o algo que realizamos y que no produce algo físico, material u objeto.
Ejemplos
Let's do something
Do someting
Do the dishes
Lave los platos
Do me a favor
Hazme un favor
Nota: Es muy común escuchar la palabra "Do" al inicio de una pregunta, por ejemplo "Do you see what I'm talking about? " , en este caso el verbo do funciona como un auxiliar.
Make(construir)
La palabra make también es un verbo, pero en el contexto de construir algo, poner algo junto , crear algo.
Ejemplos
She is going to make a cake for your birthday.
Ella te va hacer un paste para tu cumpleaños
She made a dress for her wedding.
Ella hizo un vestido para la boda de ella.
It makes me sick
Me hace sentir enfermo
She makes me happy
Ella me hace feliz.
She makes dinner every night
Ella hace la cena cada noche
He makes ten dollar an hour
El gana 10 dólares la hora
I can make it
Puedo lograrlo