Diferencia entre Perhaps, Maybe y Possibly
|
Hay una breve diferencia gradual entre Perhaps, Maybe y Possibly que debes saber para mejorar la manera en que escribes inglés y en la que lo hablas.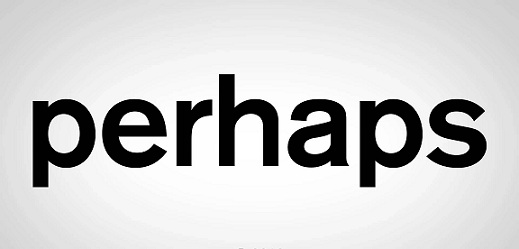 Perhaps
You won't admit you love me and so
How am I ever to know
You only tell me
Perhaps, perhaps, quizás…
Así inicia "Perhaps, Perhaps, Perhaps" que fue la traducción de la canción original del cubano Osvaldo Farrés y que fue un éxito en 1947. La traducción fue hecha por Joe Davis y la han cantado personajes tan importantes como Nat King Cole, Celia Cruz, Los Skatalites, Rigo Tovar, Dennis Brown, las ex-spice girls Geri Halliwell y Emma Bunton , The Pussycat Dolls, Jennifer López con Andrea Bocelli y el Buena Vista Social Club.
En los años 90 la banda norteamericana Cake hizo un cover que se volvió muy famoso para la película Dream for an Insomniac.
Esta canción hace referencia al juego de seducción entre una pareja que espera con ansias una respuesta de su amada, pero ella, siempre le dice que no sabe… y la esperanza se queda en el aire con la palabra "perhaps".
Maybe
La canción del verano del año pasado fue sin duda "Call Me Maybe" de Carly Rae Jepsen. La cantidad de covers y parodias que tuvo en YouTube fue impresionante.
Maybe es la manera más informal de decir "tal vez" y lo podemos ver muy bien reflejado en esta canción.
Es preferible usar alguno de los dos sinónimos que presentamos hoy para escribir, ya que tienen un sentido más formal y neutro.
Para hablar con tus amigos o familiares en inglés puedes usar "maybe" sin problema.
Hey, I just met you,
And this is crazy,
But here's my number,
So call me, maybe!
Possibly
Un escalón más arriba en la escala de indecisiones tenemos "possibly" que es una manera un poquito más elegante de poner algo en duda.
En un entorno laboral, por ejemplo, es usado para afirmar un acuerdo o descartarlo, por ejemplo.
'He may possibly decide to apply for the job.'
En esta canción, la cantante islandesa Björk que viene en su segundo álbum "Post" de 1995.
Así como Perhaps, perhaps, habla de la posibilidad de encontrar el amor en una persona pero carece de la certeza de amarlo o de querer una relación. Con sonidos obscuros, una voz ligera e infantil, Björk berrea por no saber qué es lo que va a pasar.
Your flirt finds me out
Teases the crack in me
Smittens me with hope

Possibly maybe possibly maybe
possibly maybe

As much as I definitely enjoy solitude
I wouldn't mind perhaps
Spending little time with you
Sometimes
Sometimes
Es así como ligamos tres canciones de nuestro playlist para definir palabras que aprendimos en las clases de inglés en Harmon Hall y que, aunque su diferencia no sea mucha, es necesario conocerla para dominar el idioma como un nativo.
¿Qué otras canciones conoces que tengan estas palabras?